For more than two decades that I have been associated with the Indian Institute of Entrepreneurship,I came across a very wide range of entrepreneurs at various stages of their entrepreneurial journey.My nature of work was such that I got an opportunity to be associated with entrepreneurs across the value chain,starting from self-employed/nano entrepreneurs and SHG's at the grassroot level,micro entrepreneurs from semi urban and urban areas and start-ups from the region.The experience has been varied and it is interesting to witness the gradual change in the type of enterprises that have come up and the visible change in the mindset of the youth towards looking at starting their business.
Compared to the rest of India, even today we find that the pace of entrepreneurship development in Assam is much slower. There are a number of factors that influence entrepreneurship and lead to start-ups. Along with the major bottlenecks and barriers to entrepreneurship, like know-how, finance, administrative burden and social security, the cultural and social factors also have an influence on the mindset of the people. The perception of family towards entrepreneurship plays a major role in starting an enterprise and until recently, the youth of the region were mainly confined to a job seeking mindset.Both through experience as well as validation through a number of action research, it is seen that in this region, becoming an entrepreneur wasn't often the first choice for youths and mostly students who were average in studies and who could not find a job looked at entrepreneurship as a career option. Few professionals who initiated the process of starting on their own often did not get the support from the eco-system. However, the trend is beginning to change in the last 5-6 years and today we find that vibrant enterprises in the form of SHG's, farmer producer companies, MSME's and start-ups have come up. In Assam, along with government support through various schemes and programmes for entrepreneurs , through the increasing role of educational institutions and Incubation centres there has been an impact on enterprise creation. Although the numbers are few, youths have come up with innovative solutions for local problems .
There are some entrepreneurs whom I mentored and also developed a special bonding and could be a part of their growth process.There have also been livelihood projects,where my experience relates to promoting group entrepreneurship through the cluster approach.Have witnessed how economic empowerment changed lives of people many a time I got emotionally attached with some such projects and people.Will keep sharing stories of such entrepreneurs/ projects from the North Eastern Region.
I would like to start with my experience with an entrepreneur from the Imphal Handloom Cluster … Ms Bimolota Devi .Way back in 2006,when insurgency was at its peak in Manipur,I had taken up the assignment of implementing the Imphal Handloom cluster covering 3000 weavers from the Imphal East district.Sharing the link of the audio visual depicting the journey of the cluster.
The key role in the cluster was played by Ms Bimolota Devi who was one of the very few master weaver who could not only understand hindi but could understand the value of implementation of a cluster project in her district.It was with her support that the language barrier in the cluster could be broken. Mentoring Bimolota was an interesting experience as I could witness how she evolved from a master weaver to a confident entrepreneur from Manipur.She was also instrumental in building trust between various stakeholders in the cluster.
Sharing the story of Bimolota Devi ,who played a major role in not only forming the Special Purpose Group (SPV) of the cluster which donated a plot of land for construction of the CFC but also took a lead in setting up the yarn bank in the cluster. Both the CFC and the yarn bank played a major role in ensuring sustainability of the cluster.
A tale of triumph : Ms Bimolota Devi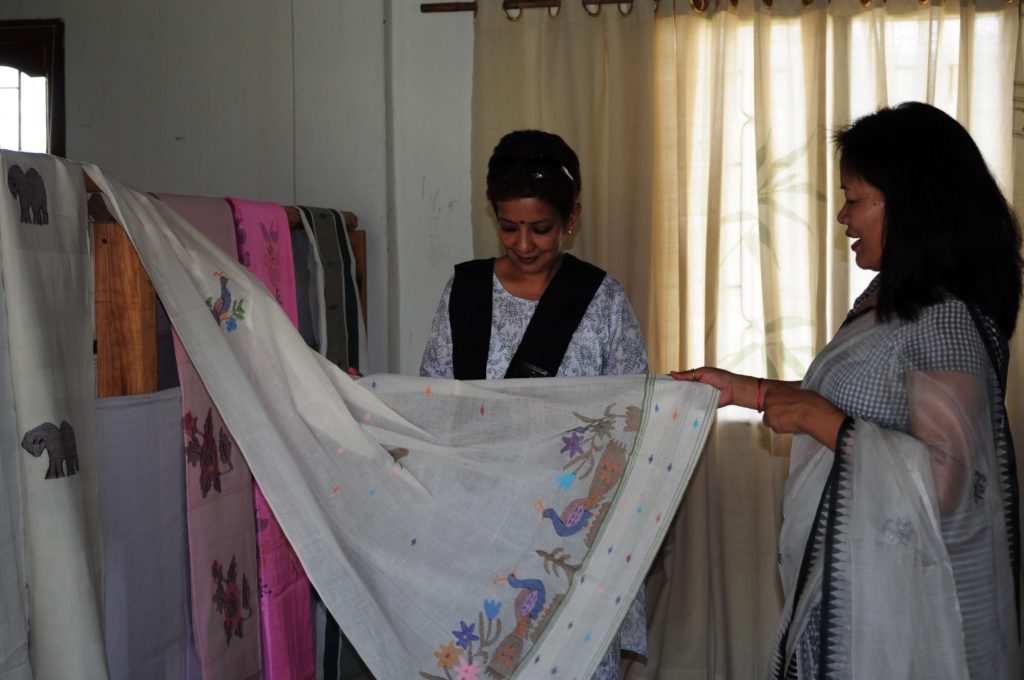 Manipur is one of the most trouble prone state of North East India and whenever we talk about Manipur few things come to our mind –insurgency,women power ,rich culture and excellent weaves.The situation in Manipur has definitely changed for the better ,but five years back when insurgency was at its peak,I was given the assignment of implementing a handloom project covering 5000 women weavers in East Imphal district.Apart from insurgency,language was the other big barrier for me and amongst the master weavers with whom I started interacting,there was only one master weaver who could speak hindi and in the process of implementation of the project, she became the anchor for me.The implemention of the project is almost over now and through the entire process of implementation of the project, I could see the growth of my anchor NG. Bimolata Devi and tremendous contribution of Bimolata to the handloom sector in Manipur.
Born in 1963 in a small village named Achanbigu Mayai leikai of Imphal East district,Bimolata was the third child of W Anusana Singh.There were six children in the family but unlike the other five,Bimolata was a very creative child.She would start creating small artefacts with small bamboo sticks and instead of playing around with other children would spend hours together in one corner of the house in some creative work.Seeing her work,her father who was by nature a very creative person decided to send for embroidiery training.It was during that period in the year 1979 that for the first time Bimolata came across a flora sewing machine in a retail outlet in Imphal.She kept dreaming of buying the machine and would often go to the shop and keep gazing at the machine.Her father understanding her interest presented her the sewing machine which then became her most prized possession.Bimolata along with two three other friends very soon started working from her house.Bimolata got married in the year 1980 and post marraiige her father-in-law became her greatest source of inspiration and support.Her four children were still very young when she formally ventured into business .It was in the year 1994 that she got a PMRY loan for Rs 94,000/ and after that there has been no stopping.From the intial 94,000/,her turnover today is more than 10 crores and has around 4000 weavers working for her.In her entire journery of growth one constant source of support has been her husband.She has single handedly designed and developed marketing strategies to spearhead her organisation's growth forward.
Her contribution in various segments of handloom industry and her efforts have been recognized through various citations and awards and the most prestigious awards have been the National Award for best wmen entrepreneur from Ministry of MSME in 2004 and best Excellence Award from SBI in 2006.
Her journey of receiving accolades and awards had just started when I first met her in 2006 with my most challenging assignment of implementing a handloom cluster in Imphal covering 5000 weavers.Bimolata in the year 2006 insipte of her achievements was not a very confident entrepreneur.She was no doubt full of enthusiasm but I found her inhibited and shy.I understood from my study about two major problems hitting the handloom sector in Manipur—non-availability of quality yarn and inadequate knowledge of dyeing.Being a quick learner,she immediately understood the benefits of working in a group and the need for addressing the macro issues facing the handloom industry .She played a key role in enabling setting up of the yarn bank in Imphal and today through the yarn bank,more than 4000 weavers are getting the benefit of procuring yarn at a mill gate price.This has helped in reducing the cost of production .She became my anchor to mobilize and create awareness amongst the weavers and master weavers to cooperate and compete for a larger market.The establishment of the Common Facility Centre benefitting hundreds of weavers was possible of the initiative taken by Bimolata and her co weavers to mobilize land for the CFC.Bimolata's exposure through participation in exibibitions and delegations both at the national and international level widened her horizons and enabled her to understand that the world can be her market –all it needs is creativity, and tailormade quality products.Her first international exposure came through a delegation of North East entrepreneurs to China and Hongkong.In my capacity as the organizer of the delegation I was identifying entrepreneurs from N.E India to to be a part of the delegation.I still remember her initial reaction .She asked me "Madam will you also accompany us?"When I gave her the assurance that I will be with her ,without any hesitance she agreed .At that time I never thought that Bimolata would reach such heights that I would be penning her story but now when I talk to her I realize how much her initial international exposure helped her .Back home she played a key role in forming a Special Purpose Vehicle (SPV) for running the Common Facility Centre which is the first of its kind in the state of Manipur.Along with her own establishment,Bimolata works closely with the marketing federation of the Imphal handloom cluster and plays an active role in the running of the Common facility centre
Through her further exposure to various countries like UK and South Africa,where she has participated in international exbitions,Bimolata has understood the requirements of the international market .With the demand generated internationally,the income of the weavers of Imphal have also gone up.This gives her a great sense of satisfaction.On her family front her children are also working towards complementing and supplementing her efforts.Her son Silex who graduated from NIFT worked in Milan and is an establisehed designer with his own brand 'SILEX" supplies to stores like Kimaya,—etc. Amongst her three daughters will be completing her course from NID,one who has completed her MBA will be helping her marketing and her third daughter has joined Media.Bimolata's own collection is marketed under the brand "Ningthebee"has become a fashion statement in Manipur.
Even after reaching great heights and receiving laurals and recognition through various forums,Bimolata is not one to rest on her laurels .Her drive to learn and create is still very strong and at the same time there is an urge to create awareness amongst the weavers to understand the market demand,develop market driven products and enhance the economic condition of the weavers.
Mentoring Dr Madhumita Saikia
In north east India,we have very few women entrepreneurs who has diversified and scaledtheir business and have impacted the sector in which they are working .One such example is of Dr Madhumita Saikia anentrepreneur in the beauty and wellness sector who has evolved from being a beautician to a beauty educationist and a social entrepreneur. As a mentor to Madhumita I could understand challenges in a women's entrepreneurial journey in multitasking and also,being taken seriously by stakeholders. Inspite of all challenges,it is Madhumita's drive for achievement ,complimented by her positive attitude, perseverance and hardwork that has kept her going. Her future plan is to emerge as one of the most powerful Ayurveda beauty and wellness solution provider from the North Eastern Region and provide livelihood to youth and women of the region both through backward and forward integration,
As I continue to mentor Madhumita ,she is working hard to scale up and create a niche for herself in the national and international market.Sharing the story of Dr Madhumita Saikia
The Journey of Dr. Madhumita Saikia
The Journey of entrepreneurship has never been a straight road for anyone. Those who have taken this journey, has always faced tackles and obstructions that has taken the entrepreneur to the next level or has been a lesson. Likewise, the journey from being Miss Madhumita to Dr. Madhumita has been a roller coaster ride, wherein, she had to face loads of ups and downs, due to which, today, she has successfully set up her own training centre on beauty and wellness called-Signature Training Centre & Ayurveda Institute.
Being felicitated with various awards in the field of beauty and wellness, as an woman entrepreneur like 'Assam Bhasha Gaurav Award (2021)', 'ICC felicitation as enterprising woman of Assam, Woman of the Year by All India Hair & Beauty Association(2010)', 'Wise Woman, OMC, India (2016)', Dr. Madhumita hails from a small town called Tinsukia, in Assam. Her struggles had started since her childhood itself. She was the 8th child of her parents, and both of her parents were in their 50's, when she was born. Her family was into a small scale business of herbal products. Due to the extremely poor financial conditions, her parents wanted to give her away, but her older siblings didn't let them take this harsh step and they took the sole responsibility of looking after her.
Poverty had hit her family in such a way that her parent's health was affected tremendously. She lost her father and her mother was also not keeping well. Due to these conditions, she had to get married at a very young age, without being able to study for her higher education. Yet, getting married at a young age didn't stop Dr. Madhumita from dreaming of a career that she wanted.
Post wedding, Dr. Madhumita completed her graduation from Guwahati Commerce College and her Masters in mass communication from Guwahati University. She earned her PhD from the same University on her thesis "beauty & wellness (traditional medicine) among tribes of Assam". While preparing her thesis itself, she knew that she wanted to do something in the field of beauty and wellness in Assam. Her family inheritance of herbal heritage had made her choose this field.
Post her doctorate, she started her career as an assistant beauty Therapist in Sister Beauty Clinic situated in Guwahati. She had also worked as an Instructor in ITI, Women, Guwahati for 11 years.
Dr. Madhumita has been in the field of beauty and wellness from the past two decades. Her institute "Signature", not only provides training on beauty, hair dressing, makeup and Ayuveda therapy, but also produces a wide range of beauty care products which are homegrown and locally produced in Northeast region. The products are also made with affordable prices, so that it is available to everyone.
Apart from her interest in the field of beauty and wellness, Dr. Madhumita had also wanted to do something for the underprivileged people of the society, as she had faced the same struggle since her childhood. Hence, she clubbed both of her passion into one and shifted to Herbs culture in 2015, wherein she trained rural youths and women on herbs cultivation, culture and processing. This population was further supported to get self-employed and earn a decent livelihood. She made sure to extensively visit the tribal and non-tribal villages of Brahmaputra valley in Assam, to understand their situation and as to how can she be a medium to support them for a better livelihood.
Till date, she has trained over 27,000+ women & youths from rural, urban and semi-rural areas on beauty & wellness. Apart from that, she has also supported them to get employment and become self-reliant, at her personal capacity. She has conducted various awareness programmes among rural and semi-urban areas, on herbal and traditional medicinal plants, aromatic herbs, their sells and further processing. Formed clusters in rural areas to cultivate herbs. She has made sure to aware them about saving trees, make a pollution free environment, saving birds and wild animals.
Dr. Madhumita's thorough knowledge and experience in the field of beauty and wellness has got her recognized internationally too. She was invited as a guest expert at Hongkong, China on invitation from Winda's International, Hongkong&D'cleor Spa Chain, Shanghai, to train rejuvenative & curative Ayurveda.
She had also visited in Southampton (UK) London, Oxford to teach anti-stress therapies, and in Sydney (Australia) & Yangon, Myanmar as Govt. delegate to India Trade Summit, with Indian chambers of Commerce. Moreover, she was called upon to be a expert observer of NSDC, when she had visited Birmingham, UK.
Besides being a beauty educationist and a social entrepreneur, She has written around six fictional Assamese books. Her articles are published regularly in various newspapers and magazines.
Dr. Madhumita aims to economically upgrade the tribal and rural population of Assam and North East. She wants to develop various skills in beauty & wellness, herbal processing and Ayurveda therapies among the youths and women.