This is a story of an exotic fruit and an extraordinary entrepreneur who has been behind propagating this fruit in North East. When we talk of strawberry,people normally relate to USA and Europe and more so to Wimbeldonand its association to strawberry and cream .I had the opportunity of meeting this extraordinary entrepreneur in one of my official trips to Nongpoh.Neither of us had any idea of what we could do together but all I could understand was that Mr O.Lynkhoi looked helpless and needed support in marketing strawberries. This prompted me to go to the strawberry (Sohliya) village in Ribhoi district of Meghalya as I was looking for a proposal that can be promoted under Rural Business Hub project on a  PublicPrivate Partnershipmode. I was amazed and impressed to see the village with 68 households and 441 inhabitants all into strawberry cultivation. The total production of strawberries from the Sohliya village is around 50 tons.Igot more and more interested to know about MrLynkhoi and how he could achieve the feat of inducing so many households to take up strawberry cultivation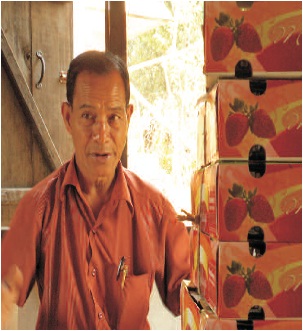 MrO Lynkhoi's journey of initiating strawberry plantation dates back to 1998 when his friend and relative Dr Longtrai introduced him to MrLestonWanswait who was keen to experiment strawberry plantation in Meghalaya.MrWanswait-through his son who was studying in Pune got some plants from Pune and started experimenting strawberry plantation in Cherrapunji.The climate ofCherrapunjiwas not suitable and he was contemplating initiating plantation in the Byrnihatarea,For that he needed some support and that is how he got in touch with MrLynkhoi and they both started plantation in Byrnihatarea.MrLynkhoi worked for him and seeing the initial success ,immediately started strawberry plantation in his village in Sohliya.
An extremely enterprising person,MrLynkhoi's life has been one full of challenges and every challenge he has converted to an opportunity. Born in a small village named Pariong in West Khasi Hills,Lynkhoi's father was a school teacher and they were seven children in the family.It was in the year 1966 that they shifted to Sohliya village where the family finally settled. Being from a farming community, they started cultivation and their father continued teaching in nearby schools. Completing his class twelve from St Edmund's College Shillong,Lynkhoi looked around for a job and managed to get a helper's position on a temporary basis at the block office in Mawryngkeng where he worked for one and a half years and his starting salary was Rs 80/ per month.Whenhe got married,he did not have a permanent job and used to do small time trading business.His first achievement came in the year 1975 when he stood second in the entrance test to join the Meghalaya Police Radio Organisation as a wireless operator .It was through his grit and determination that he got this job and his height of 5ft 2inch which was otherwise a disqualifying attribute did not become a deterrent as he stood ahead of others in all the qualifying physical tests. ForInitial three years Lynkhoi was posted in Sonapahar in West Khasi Hills and later he was transferred to Shillong.Any other person in his position would have thought of a settled life with a secured job but the entrepreneurial mind of Lynkhoi made him restless and his desire to innovate and create influenced him to leave his job and be his own boss.He started farming initially in West Garo Hills and later shifted to Sohliyavillage.Strating with cultivation of paddy , maize ,he later ventured into tea cultivation.Eventually in the year 2002 after his initial experimentation with his friend in Barnihat started growing strawberries in Sohliyavillage.For the first four years he was the lone cultivator in the village and he used to pack his produce in bamboo baskets and engage his son in selling strawberries in the roads of Shillong.He immediately got a very good response and understood that there coiuld a very good future for this fruit.Sensing the returns,other farmers of Sohlya village started taking his help and planting strawberries.
The turnaround came in the year 2004 when MrLynkhoi met the horticultural Officer Mr B.K Sohliya who not only became a friend,philosopherand guidetoMrLynkhoi but encouraged the farmers to form a strawberry growers association and gave them support under the technology mission The production increased by leaps and bounds during the period from 2006to 2008 and seedlings were procured from California.Sohliya village named after the indigenous Sohliya fruit whichis now more known as the strawberry village is about five kilometers from Umsning in Ri Bhoi district .Cropping area in the village ranges from 1 to 3.8 hectres ,and the output of strawberries is dependent on the availability of seedlings
A problem that stood out in the entire process was availability of seedlings.The seedlings had to be procured from California and the landed price was Rs 17 per seedling.Not to talk about the price alone but there was uncertainty on arrival of the seedlings on time from California.
Interacting with MrLynkhoiand other stakeholders,I could understand that the major handicaps and mooted the idea of setting up a nursery for germinating seedlings in the village itself and thereby reduce dependency on Californian seedlings. A Rural Business Hub on Strawberries was set up in Sohliya village to increase productivity and to ensure market linkage with a private buyer at a predetermined price.The nursery brought in all vigour , expectation and enthusiasm amongst the growers andnewer leads in marketing strawberry started opening in the village.The exposure has helped the villagers in realizing not only the value of the fruit but to explore the possibility of cashing in on various by-products that strawberry has to offer.Options of making dehydrated strawberry,wine ,jam ,ice-cream essence etc has a great potential .Some small steps have been initiated under the leadership Lynkhoi who besides being the headman of the village,as secretary strawberry growers association,acts both as a producer and marketer of strawberries for the village. I see a visible difference in the confidence level of MrLynkhoi today as compared to first time I met him in 2008 .Today he is sure about the market,haslinakage with 7-8 buyers in Guwahati with the help of whom he has exported strawberries to nearby countries.With the opening up of formal border trade with Bangladesh via Meghalaya ,MrLynkhoi is looking forward to trading strawberries with Bangladesh.
Along with strawberries,Lynkhoi has travelled a long way and he is grateful for the support that he has received from the government.But having realized the prospects he feels there is a long way to go .The main deterrent is the lack of knowledge on the technology for breeding mother plants.InLynkhoi's own words"It is a shame that a country like India we do not have access to the Technology of breeding strawberries" .He also had a lot of expectations from ICAR but remains a disappointed man.He wish is to go united States,stay in California and learn the technology and bring in a revolution in growing strawberries in Meghalaya and market Meghalaya strawberries to the world.
Strawberries have indeed created a long lasting impact on the lives of people in Sohliyavillage.There has been a substantial increase in the income of the people and children have all started going to school.This is just the beginning. The villagers can keep on expanding strawberry cultivation and expand the scope of strawberry to newer horizons, because sky Is the limit for strawberries in terms of scope that it offers and all it needs is proper planning and execution.